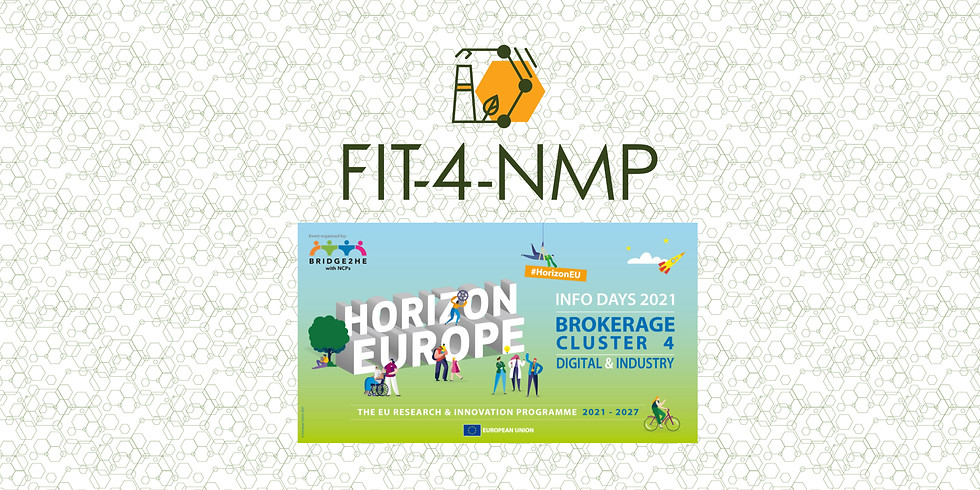 Last week a Horizon Europe Digital & Industry Brokerage Event was announced in conjunction with the European Commission's Horizon Europe Information Day on Cluster 4 - Digital, Industry & Space planned for 29 November - 01 December 2021.
The Brokerage Event will take place on 02-03 December 2021 in an online format providing a unique networking opportunity for actors in the Digital & Industry fields to:
promote available capacities, research results, technologies and know-how
discuss and develop new project ideas at the international level
facilitate the setup of project consortia to apply for Horizon Europe Digital & Industry calls
The FIT-4-NMP team invites you to join a special 2-hours training in advance of the Horizon Europe Digital & Industry Brokerage Event. The training is particularly developed to:
maximize the efficiency of your participation in the upcoming Brokerage Event
inform you about other opportunities available for establishing international cooperation
Registration and Participation Details
The FIT-4-NMP training session is free of charge, but only registered participants will be allowed to participate!
Please, register until 28 November 2021 at https://www.fit-4-nmp.eu/fit-4-nmp-training-registration
You will receive the access link by email on 29 November 2021, one day before the event.

For more information, please follow the link: https://www.fit-4-nmp.eu/event-details/fit-4-nmp-training-announcement

Team FIT-4-NMP.